Are you planning a trip to Paris (that's longer than a day?)? Here are some more ideas for must-do, must-see, and obviously, must-eats!
I have only been to Paris in the summer: for two separate weekends in 2017 and six weeks in 2018. This city is chock full of amazing things to do, and I have nothing to say other than ~Eiffel~ head over heels for this city, and am sure you will too!
First of all, let's start off with some basics for your stay in the city of lights! Depending on what time of year you go or the place you stay, you might not want to walk (or bike!) everywhere (although I definitely would NOT discourage this! Every corner in this city is a photo op). Paris has 20 arrondissements, or neighborhoods, which start in the center and spiral out like a conch shell. It also has a super easy-to-use metro system which can get you where you need to be in no time! Tickets are fairly inexpensive, and the free Paris Metro app can be used offline. Another helpful tip is to purchase Euros before you travel abroad (you can order them from most local banks!) and in smaller bills if you can!
Here is an outline for some in-Seine-ly good (see what I did there ;) ) things to do, see, and eat if you are in Paris for a week!
Day 1: Cathedral Notre-Dame, St. Michel, and the Latin Quarter
The Latin Quarter embodies iconic, quintessential Paris and is the first stop on this trip! It is a beautiful area in the Left Bank, which is genuinely on the left bank of the Seine River, cutting straight through the city. You can access this area via the St. Michel metro/RER stop. When you walk up the stairs out of the station, you are greeted with the Notre Dame Cathedral just ahead of you!
Being the person obsessed with directions and knowing exactly where I am (and hating having to rely on a GPS) I totally recommend starting your trip with a Seine river cruise. This is an awesome way to get a bearing of the city, and learn some super cool history! They aren't super expensive and might only take an hour or two, depending on the one you choose! These cruises often start at Pont Neuf, which is right across from Île de la Cite, where the Notre Dame is located!
Of course, after your river cruise you HAVE to go to the Notre Dame. While the Notre Dame is technically in the 4th arrondissement, it is actually touching the exact center of Paris! There is a plaque marking the spot you can step on for good luck just in front of the cathedral. You can also walk to the top of the Cathedral, which I recommend, but this is NOT for the faint of heart (or rather, faint of legs). There were some seriously steep and narrow spiral staircases to climb, however, the view is beautiful and so worth it!
After the Notre Dame, go relax and check out Shakespeare and Co., just across the river. This is an iconic bookstore with a neighboring cafe. I promise you won't be disappointed! Alternately, take your book and stroll just a block down the cobblestoned street to the 3-story Odette to try some of the most delectable choux pastry and relax with a view of the Notre Dame cathedral from the window!
Finally, as you wander the streets of the St. Michel area and the Latin Quarter, you must stop at Le Procope, the world's oldest operating coffeeshop, turned upscale bistrot! Legend has it that historical figures such as Benjamin Franklin and Thomas Jefferson frequented Le Procope, and that Voltaire even drank 40 cups of coffee there in a day! I know for a fact that I will never forget the crème brûlée I had! You can make a reservation online.
If you're in the area looking to just chill, hit up the Luxembourg Gardens for a picnic, or even picnic at the banks of the Seine! As referenced in the former Paris post, open containers are allowed! Take advantage of it while you can! Pick up a bottle here on your walk to the Gardens (props to the genius who decided to put a wine store literally down the street) or at any Monoprix or Carrefour on the way!

Some other places to check out in St. Michel/the Latin Quarter:
Lou Lou - adorable Australian bistrot on Rue St. Germain!
Le Fournil - your one stop shop for paninis, crêpes, and drinks on the go! [irrelevant detail: there is also a bank/ATM literally across the street from here which is super convenient if you are running low on cash]
Amorino - ok so these are literally everywhere, even in the States now, but who can say no to flower shaped gelato?! Bonus if you top it off with a gelato-filled macaron! There are a few in this area.
Ladurée - there are a ton of Ladurées in Paris, but the Champs-Elysées one can be so crowded! Avoid it and go for one of the smaller ones instead. [In the Latin Quarter, there is one on Rue Bonaparte]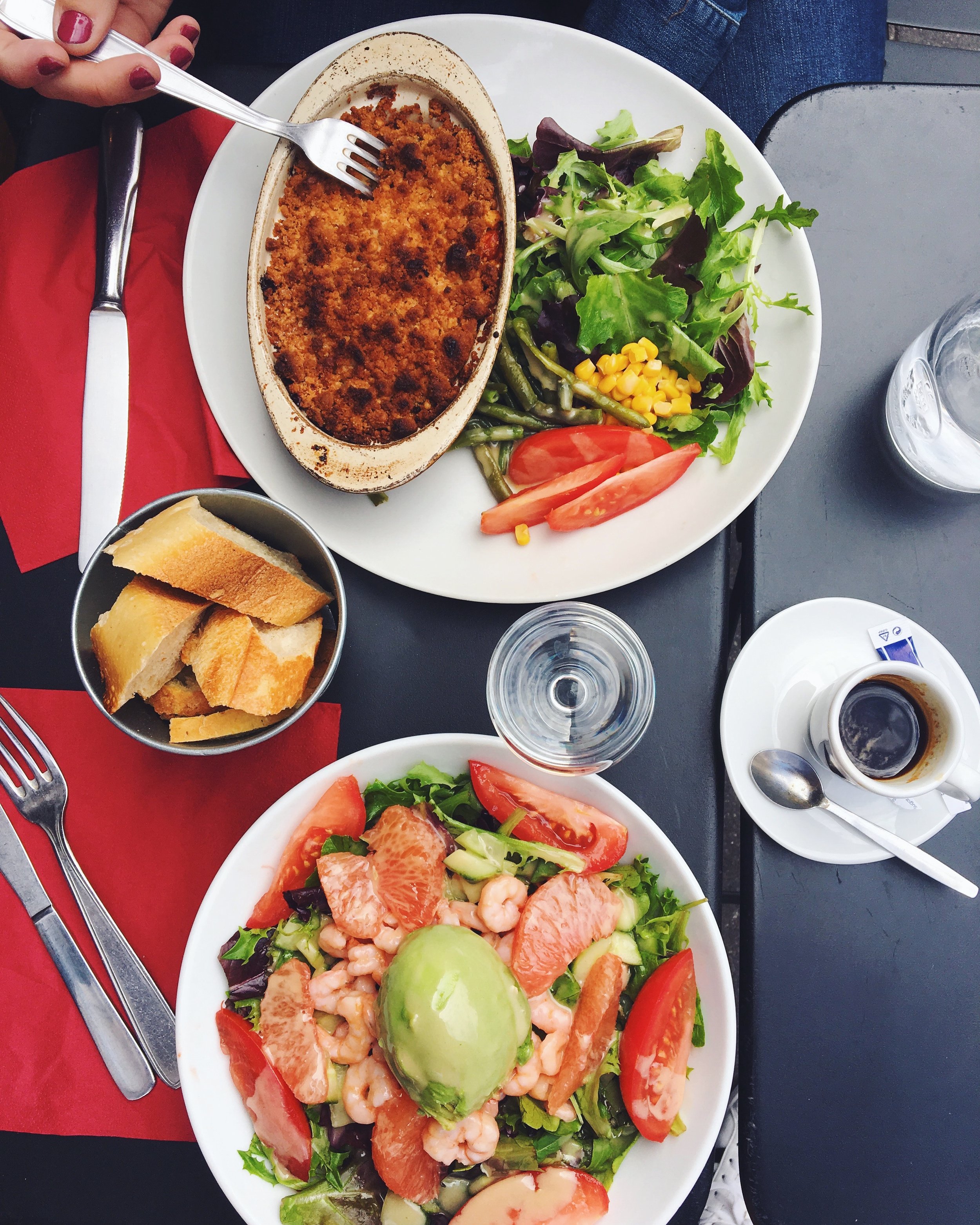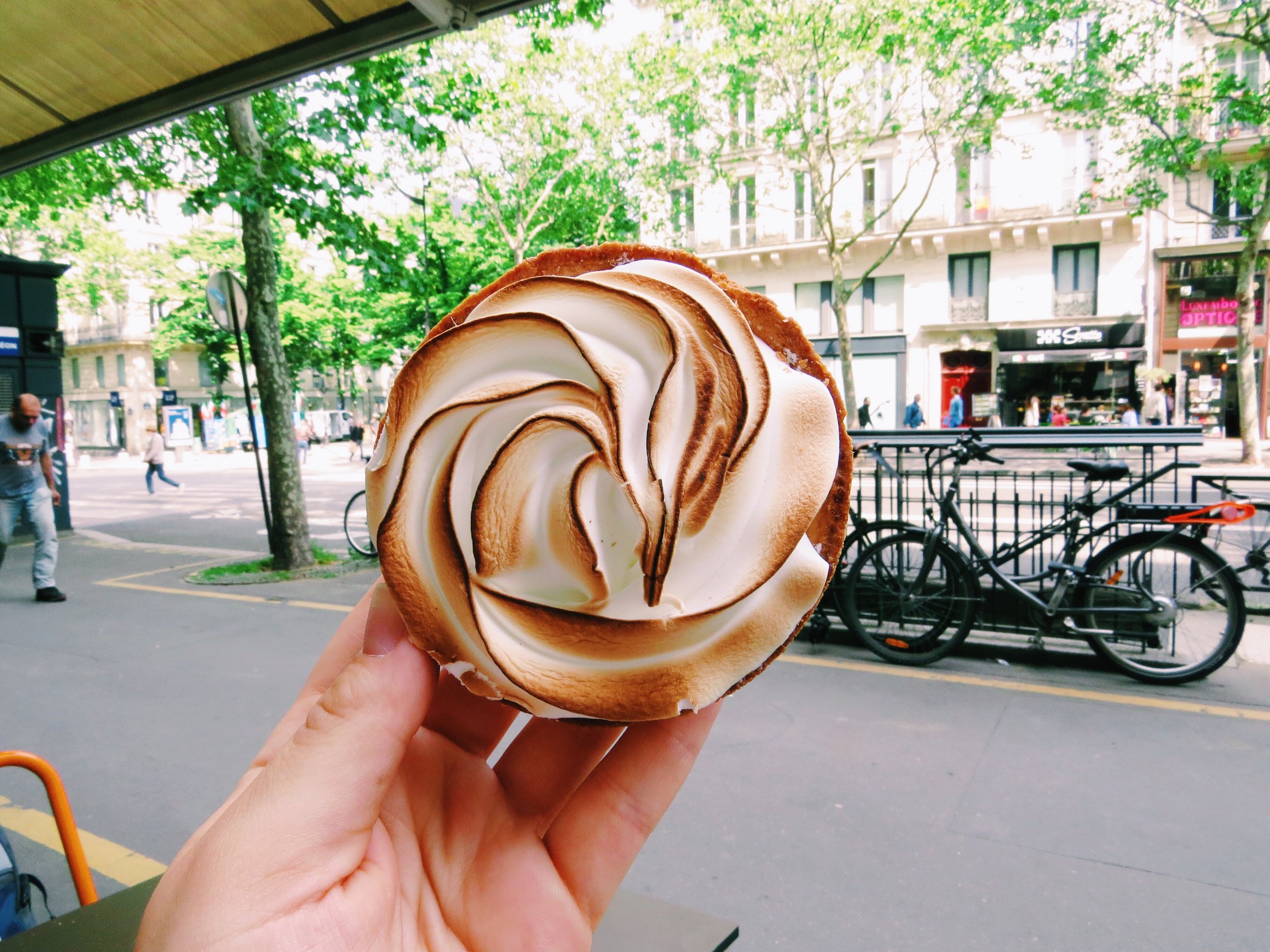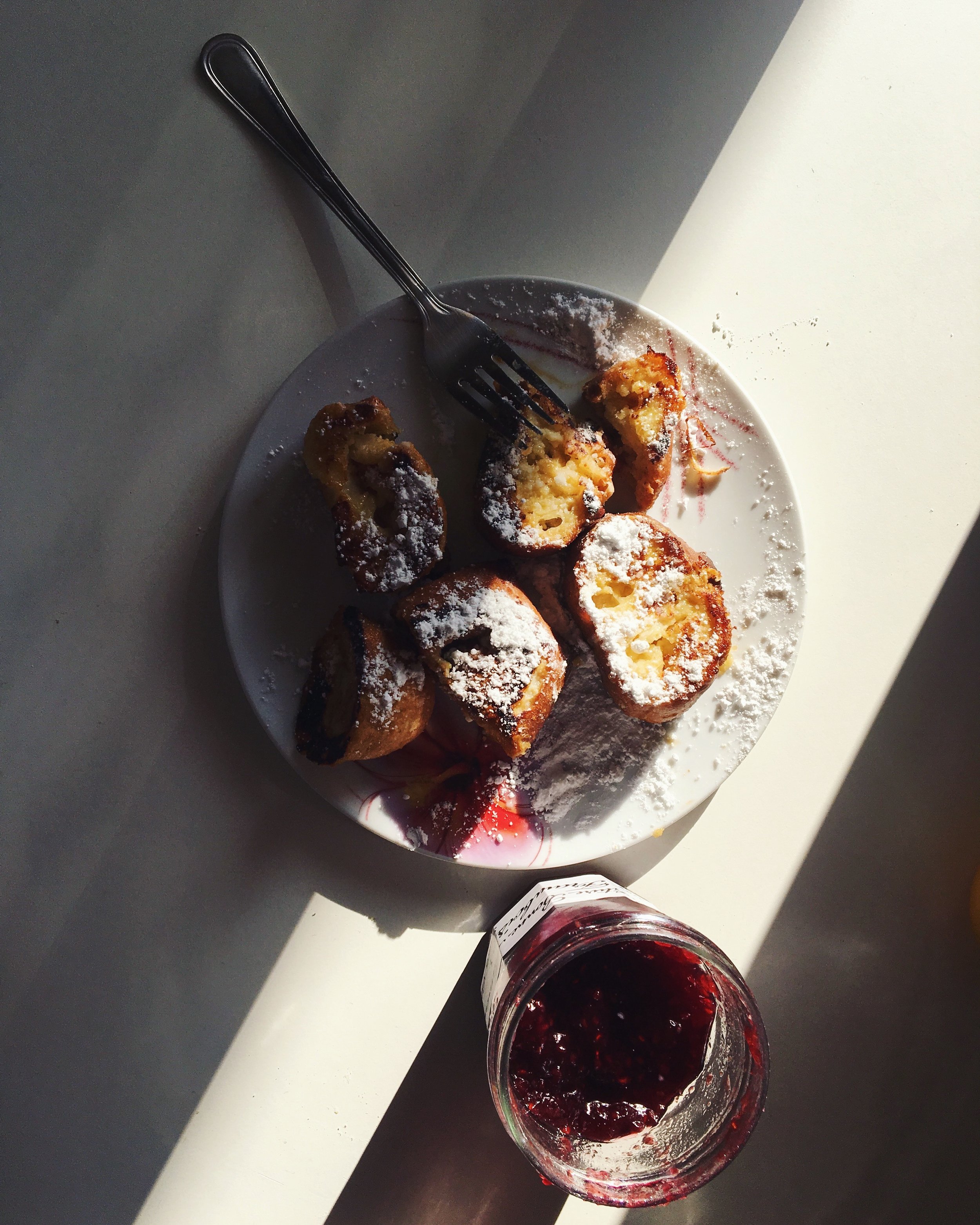 Day 2: Take a selfie with Mona + Palais Royale!
While you're in Paris, it is of utmost importance that you take advantage of all of the amazing art and history there. The Louvre is a major site you need to hit, and it is actually free on Friday evenings to students (from my experience, they let any young-looking person walk right in for free), but generally entry isn't too pricey to begin with (you do not have to buy tix in advance!). The Louvre can 100% consume your entire day. Even if you're not a huge art/history person, at least you can say you've been to the place where Beyonce filmed her music video. :) (but trust me, even a non-art/history person will be in awe walking through this insane establishment!!) You can take Line 1 or 7 on the metro to get here, and get off at the stop Palais Royale Musée du Louvre.
If you walk down Rue Rivoli, which runs right by the Louvre, you HAVE to make a stop at Angelina. This place serves what is apparently among the best hot chocolate in the world, and I most certainly would agree with that! It was a hot day when I was there, so I ordered the old-fashioned iced chocolate, which was this frothy, rich concoction- smoother than a milkshake but creamier than chocolate milk- and I tried my friends' hot chocolate and white hot chocolate, which were DIVINE. Definitely come hungry, because these drinks are rich!
If you keep walking down Rue Rivoli, you will come to the entrance of Palais Royale, another beautiful and photogenic place! The courtyard of Palais Royale is black-and-white checkered and striped, so totally take advantage of this cool backdrop for a pic! Nearby Palais Royale you can find Bistrot Vivienne, a chic bistro where I stopped for a quick snack. There I may have had the best ~French~ French fries of my life, along with a profiterole, which is basically a cream filling (in this case, ice cream, the best antidote to a hot summer day) stuffed between two layers of pastry.
While you're in the 1st Arr, also check out Kaitleen - their breakfast (fresh-squeezed juice, coffee or tea, and a croissant) is only 3 euro!
Day 3: Another day, another musée!
Again, while you are in Paris, DO NOT miss out on your opportunity to see some amazing art! When I studied abroad, I took an art history course and found that I love impressionist art, of which there is no shortage in this city! Some museums to check out (that could arguably also consume your entire day) include:
Musée d'Orsay: This museum is actually in an old train station, and has work from many well known artists such as Van Gogh, Manet, and Monet.
Feeling hungry? (answer: always) There is a cute restaurant on the top floor of this museum! Check it out! Les Antiquaires is another cozy, French bistro nearby!
Metro: RER C to Musée d'Orsay or Metro Line 12 to Assemblée Nationale
Musée Marmottan Monet: This one is a little out of the way, but actually has the largest Monet collection in the world. If you love impressionist art, you definitely need to check this one out! This museum is in a quant area of Paris next to a huge park. Guaranteed crêpe stands scattered all around this area.
Metro: Line 9 to Muette or RER C to Boulainvilliers
Musée Rodin: This museum of sculpture has the famous Thinker statue! (By Rodin of course!)
Check out Coutume Cafe while you're in the area!
Metro: Line 13 to Varenne
Musée de L'Orangerie: -Monet's giant water lilies paintings are here, so if you're looking for more of the impressionist vibe do not hesitate to check this one out! This museum is actually quite close to the Louvre in the Jardin des Tuileries.
Metro: RER C, Line 12, or Line 8 to Concorde
Day 4: North of the Seine
Sooo the Champs-Élysées is probs the most iconic street in Paris (and I won't forget about it in this post!!), BUT I have to say that ultimately, my favorite street in the city is Rue Montorgueil! Rue Montorgueil is an old cobblestone street in the heart of the 2nd Arrondissement, near the largest (and most complex) metro stop in the world, Châtelet-Les Halles! *Note* take caution using this metro station. While nearly every line in Paris runs through this station, making it convenient to transfer lines, it can be an absolute maze to get around. So if you're not confident with your directional skills, I recommend getting off at Sentier, Réamur-Sebastopol, or another nearby metro station and walking. Châtelet does, however, have a huge underground mall which is very cool, and some above ground shops too to check out!
Back to Rue Montorgueil: This street has seriously some of my favorite food in the city! First, it is home to the oldest pâtisserie (pastry shop) in Paris, Stohrer. Do NOT hesitate to pick up one (or ten) of Stohrer's AMAZING croissants, pains aux chocolats, Saint-Honorés, palmiers …. The list goes on! Seriously. All of these are some of the best I've ever had, and bonus: Queen Elizabeth II is known to be a regular patron when she visits Paris. Literal pastry shop fit for a queen. We stan.
Another amazing place to stop on this street which is perfect for gifts (for yourself, and your friends, obv) is La Chambre aux Confitures. This is a chain all around France, but this place has some of THE BEST jams and sauces I have ever tried! They have literally hundreds of flavors in a variety of sizes and you can sample as many as you want!
Another stop-worthy place home to what is apparently some of Paris's finest éclairs is L'Eclair de Genie. They have some seriously amazing flavor combinations. It is definitely pricey but so worth it! There is a location on Rue Montorgueil, and another in Le Marais, which is a short walk away!
I understand that spending an entire day on one street is not 100% practical, so while you are in the area of the 2nd Arr, check out Le Marais! This is a beautiful, iconic neighborhood of Paris with some great shopping! You can walk to Le Marais easily from the 2nd Arr, or you can get off at the Saint Paul metro stop (line 1). Wandering north of Le Marais will take you to Le République as well, in the 3rd Arr!
Some other food recs for this street/Chatelet area/Le Marais/République:
Au Rocher de Cancale: Free WiFi and outlets here, yasss. I just went here for a cafe au lait, but this is a lovely bistrot with a great selection!
Monthai Street Food: A small Thai restaurant right next to Au Rocher de Cancale! Def recommend for a casual lunch!
OBAO Asian Street Food: Cheap and delicious noodles - in Le Marais!
Le Petit Cambodge: Cambodian restaurant with a location in République- and you can totally eat here for under 10 euro!
Café Oz: Super cool Aussie bar right by Châtelet. I actually watched France play Australia in this bar during the World Cup! It was v cray in that bar that night, if you can imagine!
Holybelly: I did not have the chance to eat here, but apparently it is AMAZING. This restaurant also has a location near République. Reservation recommended!
Cafe Le Brebant: Literally the most beautiful and photogenic restaurant everrr. If you don't believe me, click the link. It is pretty pricey though, so check the menu first. This is slightly north, in between the 2nd and 9th Arrondissements.
Chez Julien: Any Gossip Girl fans out there?! Chez Julien is in the heart of Le Marais, and it is also one of the places Blair and Serena went on the show! Cue heart eyes.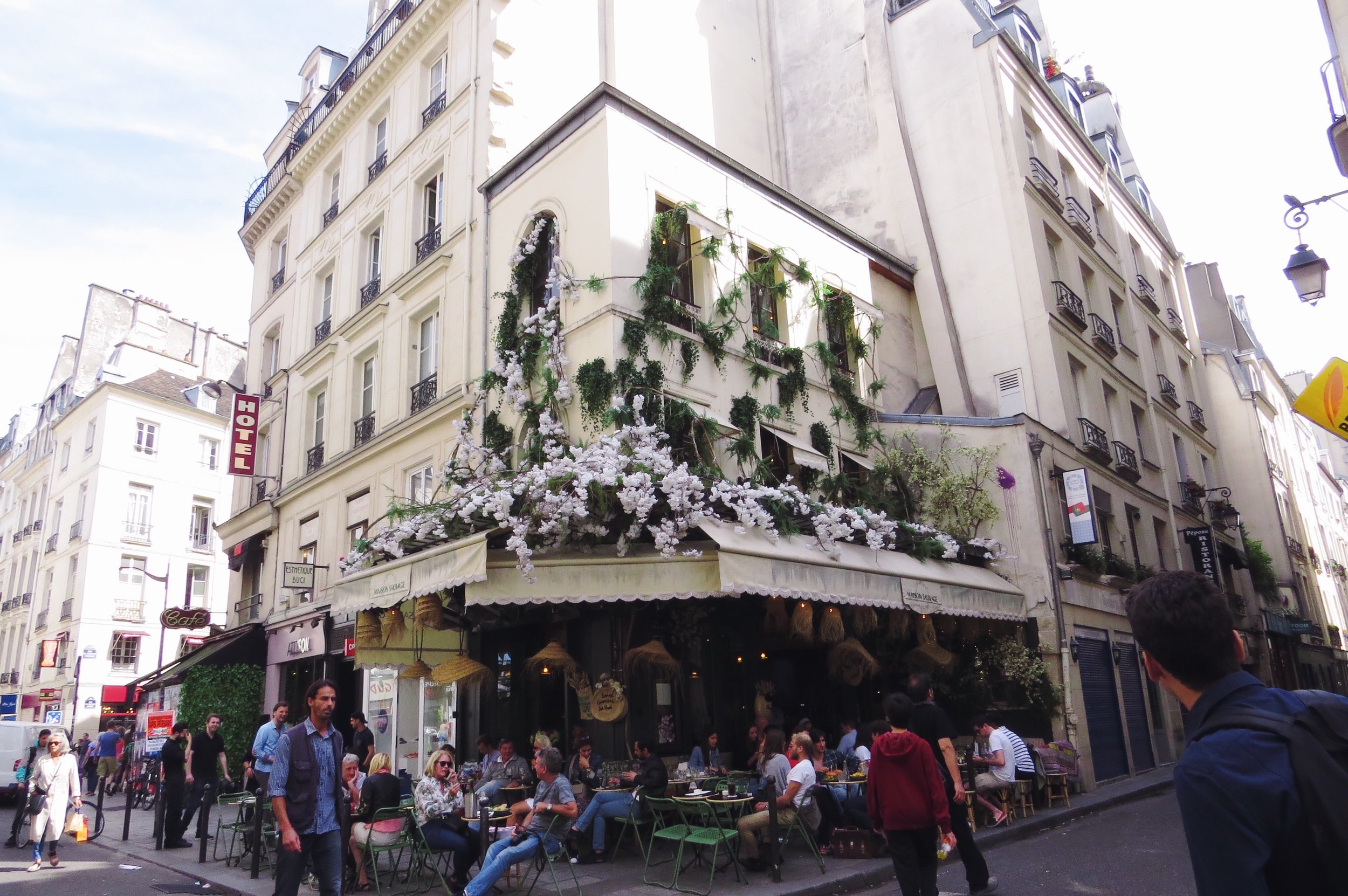 Day 5: Views from the 6 (th arrondissement) … and some more touristy things!
When you're in Paris, one place you should check out is University of Pierre and Marie Curie (UPMC), the STEM university of La Sorbonne, an ancient and established university in France! UPMC's campus is super cool and modern, and right next to the Jussieu stop of lines 7 and 10 on the metro. You can take elevators to the upper floors of the glass buildings to see beautiful views of the city! On campus, food and coffee is remarkably good and cheap as well. (Beats Market x a milli @ all you Pitt students out there)
There are plenty of cute restaurants near Jussieu, and this campus is super centrally located! A few minutes' walk takes you down to the Seine. On summer nights, there is swing dancing at Jardin Tino-Rossi, a short walk from Jussieu. If you like to dance, anyone is welcome there for free! If not, it is open to the public all day to walk around or sit.
One of my favorite places to eat near Jussieu was L'Arbre et La Cannelle, a great brunch spot! I had an otherworldly salad here packed with baby shrimp, avocado and grapefruit. It may sound weird, but I assure you, it. Was. Delicious.
After your visit to Jussieu, hop on line 10 of the metro in the direction of Boulogne Pont de St. Cloud, and transfer to line 6 at La Motte Picquet Grenelle in the direction of Charles de Gaulle-Étoile. First, line 6 is by far the most touristy but also the most scenic line on the metro, as it goes above ground to give you a beautiful view of the Eiffel tower. The final stop, Charles de Gaulle-Étoile is across the street from the Arc de Triomphe! This is a beautiful place to go at the end of the day as the sun gets low. I highly recommend going up to the top- it is a hike, but is well worth the beautiful views. Then, take a trip down the Champs-Élysées at night for some shopping and (of course) eating.
Places to check out around these areas:
Aux Merveilleux: This is a pastry shop with locations scattered throughout France and some in the US even, known for its decadent meringues I personally also love the brioche there! There is a location extremely close to Jussieu.
Pierre Hermé: This place is combined with L'Occitane on the Champs-Élysées, and is said to have some of the best macarons in the world! Like Ladurée, there are other locations around the city too.
Ladurée: Again, the line may be long but this is such an iconic location for this famous restaurant and bakery!
There are honestly so, so many places you can eat on the Champs-Élysées! My only recommendation is to stay away from restaurants where staff members are outside trying to beckon you in too excitedly with deals for a 3-course meal with a price that seems too good to be true. Often, they are working so hard to get tourists to come in because no locals ever come back, and for good reason! This is common in areas like St. Michel, the Champs-Élysées, and Montmartre.

Day 6: Livin' like Queens and Kings (Read: Palace of Versailles!)
While you're in Paris, I could not recommend MORE to go to the Palace of Versailles. This palace is insanely decadent and detailed, and like so many other stops on this list, can easily take up the entire day! It's a bit far from the center of Paris, and you'll have to take the RER C to get there. The town itself is adorable, and you totally forget you just came from a huge, bustling city! One place I ate there was Le Salamandre. I took a break from my virtually all-pastry diet (lol) for salmon and it was an excellent choice! When you're inside the palace, the one thing that is absolutely imperative is that you DON'T skip taking a mirror selfie in the Hall of Mirrors! Or try to recreate scenes from Kim K's wedding, because, obviously.
After a long day in Versailles exploring the palace and the gardens (tbh these gardens are extremely reminiscent of the maze in the Triwizard Tournament, and my friend and I totally had a duel there) take the RER C back to the city. Hopefully you have some energy left in ya to get off at Bir Hakeim and check out the Eiffel Tower as the sun goes down! It lights up at 9 PM, and starting at 10 PM, it glitters for five minutes on the hour. It is truly magical. Bonus if you are IN the tower as it glitters. The best viewpoint of it is from Trocadéro, an overlook facing the tower. You can walk up to Trocadéro from where you got off at Bir Hakeim, or transfer and take Line 6 (or Line 9 from another direction) to the Trocadéro metro station! There are street crêpe vendors alllllll over this area. Because of the location they'll be a bit pricier than some other areas, but I totally recommend picking one up to watch the sunset and the tower glitter! Alternately, check out the food and drink options IN the Eiffel Tower. There's nothing better than sipping champagne at Le Sommet, amirite?

Day 7: You choose the ending :)
Finally, I'd like to list some random things to do that I didn't write earlier but that you can DEFINITELY pack in to your trip.
Montmartre + Sacre Coeur: In the 18th Arr. This is a breathtaking basilica you won't want to miss, and Montmartre is a lovely area complete with STUNNING views of the city.
Sainte Chapelle: ANOTHER amazing cathedral with some gorgeous stained glass.
Giverny: Monet's gardens, where he painted some of his most famous pieces! This is another long-ish trip out of the city, like Versailles.
Fontainebleau: One of the biggest châteaux in France! This is also a trip out of Paris.
Catacombes de Paris: Slightly morbid, and a bit chilly, but a super cool site to visit!
There are literally SO. MANY. THINGS to do here, so here is a list of year-round events (my personal fave: Roland Garros in late May to June), and here is a list of free events!
Some final, practical tips:
The tip is included in the bill at restaurants!

Watch out for pickpockets. In a crowded area like a tourist site or metro, if your phone or wallet is sticking out of your bag or your pocket, your chance of seeing it again isn't high. :(

Try to learn some French phrases to order/ask for help/talk to locals. Most people speak English, but even leading your interaction by saying Bonjour makes a positive difference.
If you made it this far in the post, you're a REAL ONE. And probably also planning a trip to Paris in the foreseeable future! As you may be able to infer, I am absolutely in love with this city and could write endlessly about things to do there! I hope you love it as much as I do!
EDITOR'S NOTE: This blog post is entirely created and put together by my Content Creator Intern, Allison Hartman, who is a Senior at The University Of Pittsburgh.